Request your custom transfer sticker
We make vinyl cut stickers like Transfer Stickers and Vinyl Lettering. Sometimes it can also be made in multiple overlapping colors.
Colors available
The colors on the monitor are only indicative and are different from reality as each screen/monitor has its own settings.
For more information about our materials you can view the Color Chart page.
GET A FREE QUOTE TODAY!
Explain what you need, you will be contacted as soon as possible.
(You can also upload file .png, .ai, .afdesign, .svg, .eps and .pdf – Max 2MB.)
Regardless of the number of stickers ordered and the size, a minimum charge of 10€ (VAT included) will be applied or 20€ (VAT included) in case of creation of graphics.
All orders for customised products must be paid for in advance.
Refunds will be evaluated on a case-by-case basis.
This site is protected by reCAPTCHA v3 and the Google Privacy Policy and Terms of Service apply.
A transfer sticker is created by cutting sticker material to a shape, graphic or text, and then removing the background. Transfer stickers are not printed on, but instead are cut from a colored sheet of vinyl. Sometimes it can also be made in multiple overlapping colors.
All of our transfer stickers come with three elements. The first is the backing of the vinyl sheet. This is the paper layer that the vinyl is originally cut from. The second layer is the sticker itself, which is cut by our plotters to your exact design. Finally we add a top layer of transfer tape to allow you to place the sticker exactly where you want on your material.
What is not possible to do with this technique:
PRINTED stickers of photos, images or drawings.
Stickers that are too small or with too fine details and lines.
How to order a custom sticker:
If you like a custom sticker we need to know:
What do you like to do (send also examples of photos or drawings);
Maximum size, width or height (the other side will be proportionate);
Quantity of stickers;
Color among those available.
You can also make the design for your sticker:
When designing your transfer sticker, there are a few simple guidelines to ensure the best possible quality. Feel free to upload your design as it is and we'all make any required modifications.
The design will be cut from vinyl material, so it should be 1 color. Vector graphics are preferred, file like .ai, .afdesign, .svg, .eps, .pdf, with no raster images inside.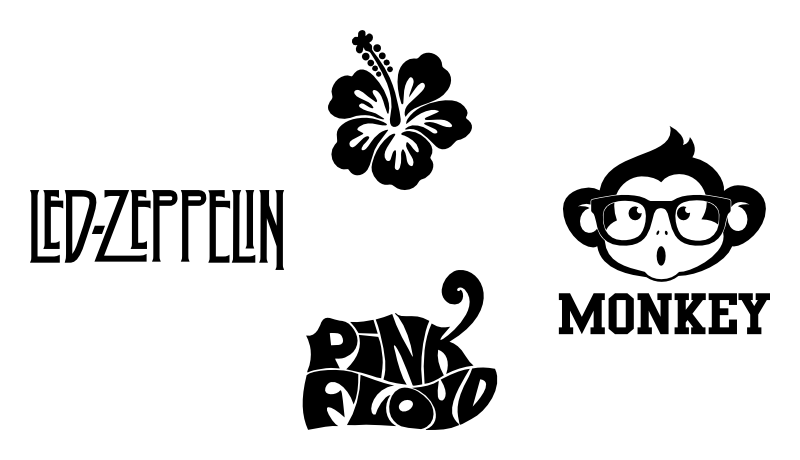 The solid parts of your design represent parts of the sticker. To ensure all parts will be preserved, be sure that you can fit a 2 mm circle within the object: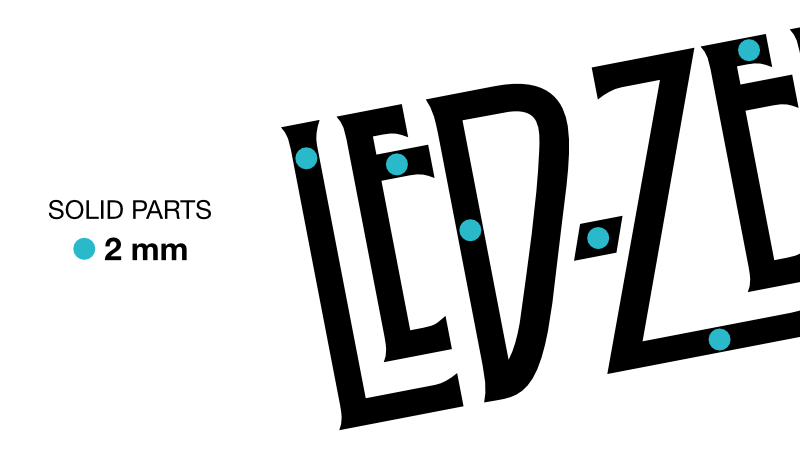 The 'white space' in your design is what will be discarded. For any area that is white space, you should be able to fit a 2,3 mm circle within that space:
Fonts:
Use linear fonts, we know that we often like a font and would like to use it everywhere, but unfortunately when it comes to transfer stickers we have to be careful about this detail.
It's not recommended to use a font with non-linear strokes, erosions, intersecting lines, too fine curls or the like. By choosing a linear and simple typeface you can be sure of the result.

Also:
Make your design in black color;
No Stroke. The value of the stroke, for all drawing elements, must be 0;
Only One Layer;
Merge overlapping paths;
Outline your fonts.
You can also send the drawing in PNG (300dpi, at least 2000px wide), black on transparent background. If suitable, we can vectorize and use it.